Wonder
Laura Sibley, co-owner of the Palms Bar and Restaurant in Wonder Valley, is opening a book shop called Wonderland Books; her family purchased an old homesteader cabin on a 5-acre tract of land in a Tax Auction. Its right across the street from the Palms Bar, with an epic desert view on all sides. Laura mentions the ontology of her desire for a bookish space; once you call something a bookstore, it is just that, it doesn't matter what kind of books or how many books are inside of it. It is an idea, a concept, a way to bring people together. Laura spoke of her love of books; she buys and sells science fiction and war books over ebay, and wanted to make a real space for books she loves, a community space that will be open when she wants it to be for readings and . Wonder Valley is full of dreamers, the gold miners who came out to hit the mother-loads, farmers from the mid-west caught up in the boosterism of Manifest Destiny plopping down on 5 acres of heaven and contemplating a freedom. This land is a slate, a palimpsest of past pasts, a place to write a story with materials, to make an invisible visible. This little bookshop is just that, a hope made real, a tiny thought that grew into this.
She laughs as she sits at the librarians desk in the space, performing the role of the bookshop mistress, sitting properly. Robert Frost's poems are displayed prominently, next to a book of Frank Lloyd Wright's architecture. The cash box is embellieshed with layers of colorful plastic gems, along with various sizes and shapes of candles adding a fairy-tale like atmosphere to Wonderland Books, along with the the Alice and Wonderland White Rabbit sign leaning against the side of the building.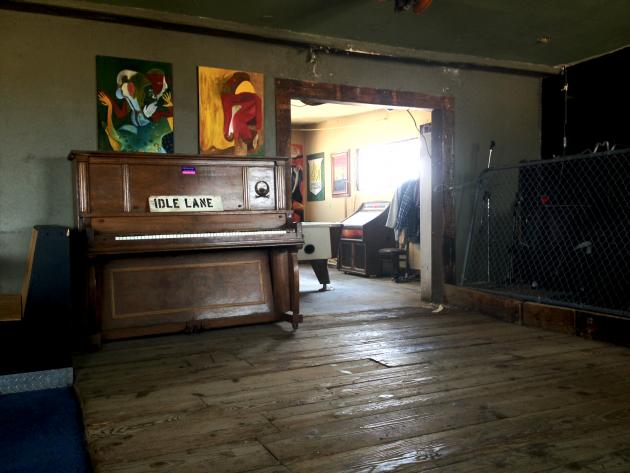 The Palms Bar and Restaurant is about a 40 minute drive from Joshua Tree down a road called Amboy, which passes through a land scattered with more abandoned homestead cabins than I have seen any where. This is an unicorporated part of the desert, not a town, but a region about 10 degrees hotter than Joshua Tree. The Palms serves an amazing breakfast on Sunday, belgian waffles with real maple syrup, home-made desert sourdough bread that has to rise in the cooler because its too hot in the kitchen, eggs with orange-yellow yolks. Laura runs the operation with her brother James, who moved out here with their family in 1997 and have created a real place for people at the Palms. Two of the folks at the bar, Sparky, who looks like Edward Abbey, with turquoise rocks hanging around his neck, and a beer in the morning, a floppy felt hat and desert blue eyes and Diane, who found her cabin (you can throw a rock to it from here!) a year ago, tell me that Wonder Valley has put an end to wandering and adventuring; it embodies the desire for movement, for wildness.
Laura and James make the breakfasts, their mother Mary works the bar. They live here, and have made the Palms a resting point in the vastness of a valley. There is a stage in the back where the Sibleys (Laura and James' band with their friend Thom) sometimes play. Mary helps write the lyrics sometimes, the resuly is a honkey-tonk, desert wind meets Velvet Undergound……They offer gold mine tours as well at the Palms!
Katie Bachler was our first HDTS Scout, and was in residence from 2012-2013.
The HDTS Scout Residency is dedicated to learning more about the people and places that make up our diverse and ever evolving community.
During Katie's residency, visitors were invited to drop into the HDTS HQ, the Scout's home base, to meet Katie, who could be found making maps, hosting conversations, and baking bread – in between her off-site adventures around town and out in the field.
Katie had a lot in store during her time here, including:
a series of talks featuring local experts
joining together to create a web of knowledge
a research library and archive documenting the many spaces, places, plants, and people that make up this special region
casual conversations with drop in visitors over tea
site visits and field trips around town
Katie engaged the community by instigating map-making and rag-rug braiding workshops, the Scout's Book Club, Art in the Environment classes for desert kids, casual conversations, site visits and field trips—all shared in her Scout's blog, which serves as the foundation for her book.